Making the complex less perplexing with Enterprise Workforce Management solution. 
If your business operations are anything but "cookie cutter", we've designed a workforce management solution with you in mind. We don't try to fit a round peg in a square hole, instead, we'll create completely custom rules that fit like a well-worn glove…no matter how complex your process. We've spent the better part of the past 37 years working with companies that require incredibly unique configurations and work rules for labor allocation, time-off and overtime, manager and administration interactions, reports, automations, and business process. "Complex" is not a scary word for us.
Request a demo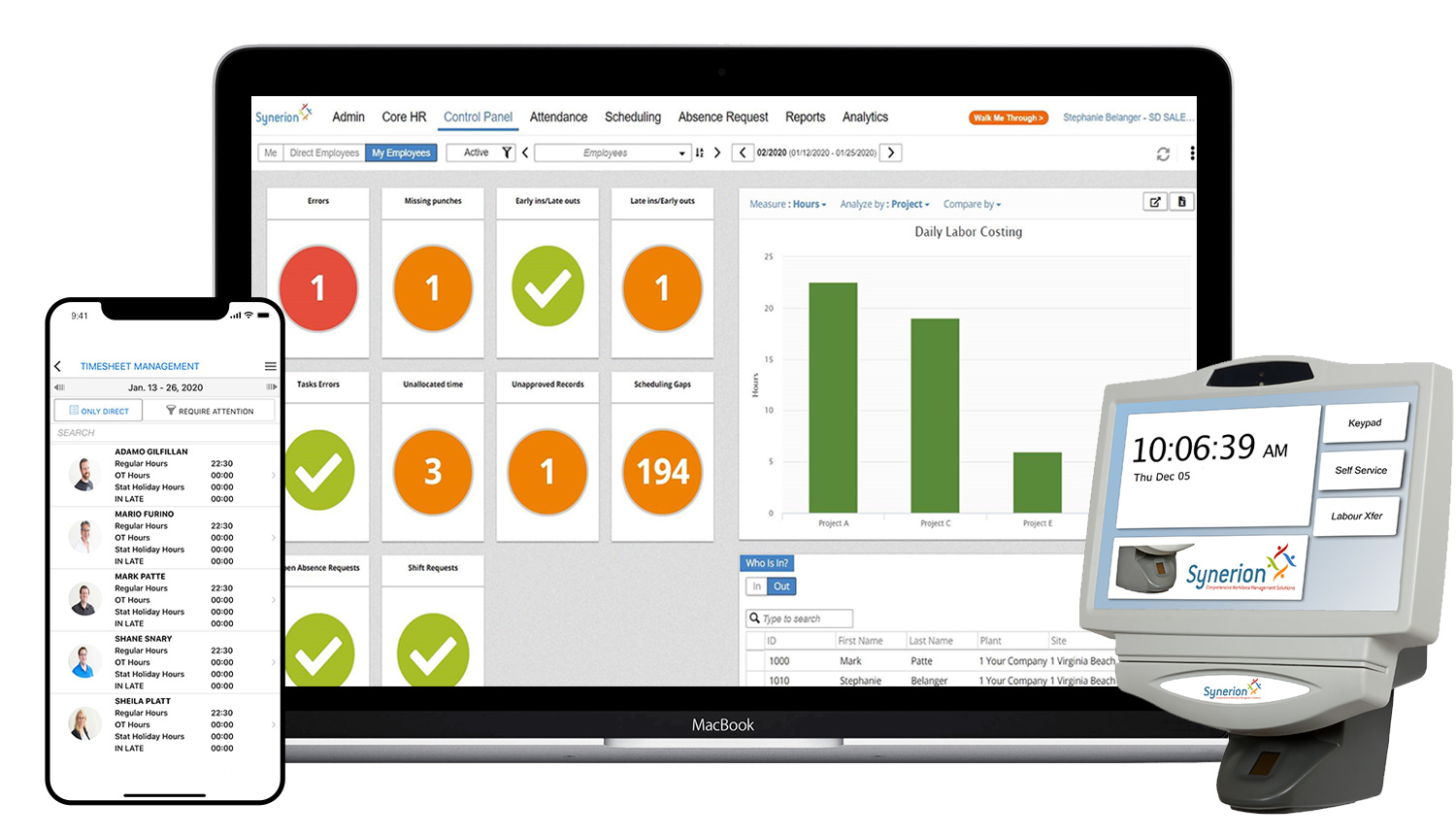 We've gotten a bit creative with Enterprise.
Complexity forces creativity. Instead of a technology your company needs to adapt to, we've turned the tables. We've designed a workforce management solution that adapts to you. With advanced scheduling capabilities, mobile capability, integrations to various systems, and business processes that work the way you do – complexities are built into your solution. We've heard and seen it all: global payroll disparities, union regulations, custom workforce automations, merger and acquisition integrations, etc. Instead of searching for something that will fit, find something that will be flexible enough to adapt and enhance.
Here's why Enterprise clients trust us with the tough stuff:
We've spent over three decades focusing solely on WFM technology. We don't do anything else (seriously, we're on the verge of obsessive). We've built, tested and perfected every automation so that we know it will work for your business.

Be honest, nobody really likes surprises. Our implementation and end-user adoption services are proven time and again to take you from 0-60 in a methodical way that avoids unwanted surprises.

When it comes to product features, capabilities and integrations, nobody has us beat. From mobile applications to notifications, and advanced scheduling used by some of the best-known retailers and healthcare environments – our sophisticated workforce management products are empowering employees and managers to work smarter, from anywhere.

More and more companies are adopting Cloud applications and infrastructure to power their business. Our technology works the way you do. We've developed advanced security within our Cloud infrastructure (powered by Microsoft Azure) to help you keep pace, risk-free.

Just a few happy Enterprise customers...

Features our Enterprise customers love

Reporting & Analytics  Advanced reporting and analytics that you can use to make smarter business decisions

Daily Coverage Scheduling Just one of the many ways to view and edit schedules with Synerion Enterprise.

Shift Offering Create a new shift and choose what employees you would like to offer the new shift.

Shift Trading Employees can easily trade, pick up or drop a shift.

Job Costing  Easily track time and even wage changes throughout the day with Synerion.

Advanced Scheduling No matter how complex your scheduling is Synerion has you covered.

Employee Self Serve Give employees the ability to punch in, view schedules, trade shifts, request time off and more!

Time Off Tracking  Easily get employees to request time off and have everything tracked and updated in one app.

Employee Health Declaration The health and safety of employees are now more important than ever! Synerion can now ask employees to verify they are symptom free before entering the workplace.

Plays well with others.

Our software is built to integrate with tons of other applications. If you can't find it on the list, we'd be surprised. But even if it's not on our list, we can create layouts to match whatever Payroll, ERP, HRIS, or other systems you're using. 

Featured Content

Helping businesses cope in tough economic times

Helping businesses cope in tough economic times

We reviewed several potential vendor solutions and Synerion stood out as the clear choice. The application was intuitive and easy for us to adapt to and capable of customizing to manage our complex requirements. Clearly Synerion has proven to be a worthy business partner.